History
Eberhard and Frank Petrick founded PETRICK, Inc. in 1989 in Frankfurt(Oder), Germany. Petrick Inc. sold and installed Security Shutters, Awnings, Vinyl Windows, and Sunrooms.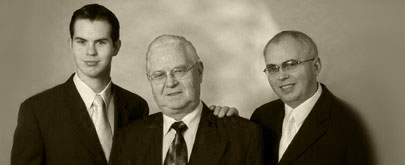 As word spread of their integrity and service, they quickly outgrew their first building. In 1994, they decided to build a larger facility, which would also accommodate being a retailer for Vinyl Windows.
In 1999 Petrick, Inc. expanded once again and began to produce and manufacture their own vinyl windows.
After two years of engineering and business school, Frank Petrick obtained his Master Craftsman Diploma in 2002. This certification guarantees that Frank Petrick delivers quality work above many German standards.
Our most significant expansion came in 2004 when Frank Petrick, and his son Tobias Petrick, founded Shutter Specialists, LLC and moved the family owned company to SW Florida. The tradition of being a family owned company continues to be the driving force behind our growth.
At Shutter Specialists Inc. we manufacture, sell, and install Hurricane Shutters.
We believe that our commitment to provide service with integrity and quality will enable us to grow and be recognized as a company that only provides the best for their customers.